Jelastic integration
BitNinja is now available in the Jelastic marketplace. Find BitNinja among the addons, add it to the node you wish to protect. All configurations and settings will be optimized for each node type.
Installation​
BitNinja can be added to any existing node after the node is deployed and running.
Open the marketplace at the top right of your Jelastic dashboard.

You can find BitNinja under the addons section as "BitNinja service"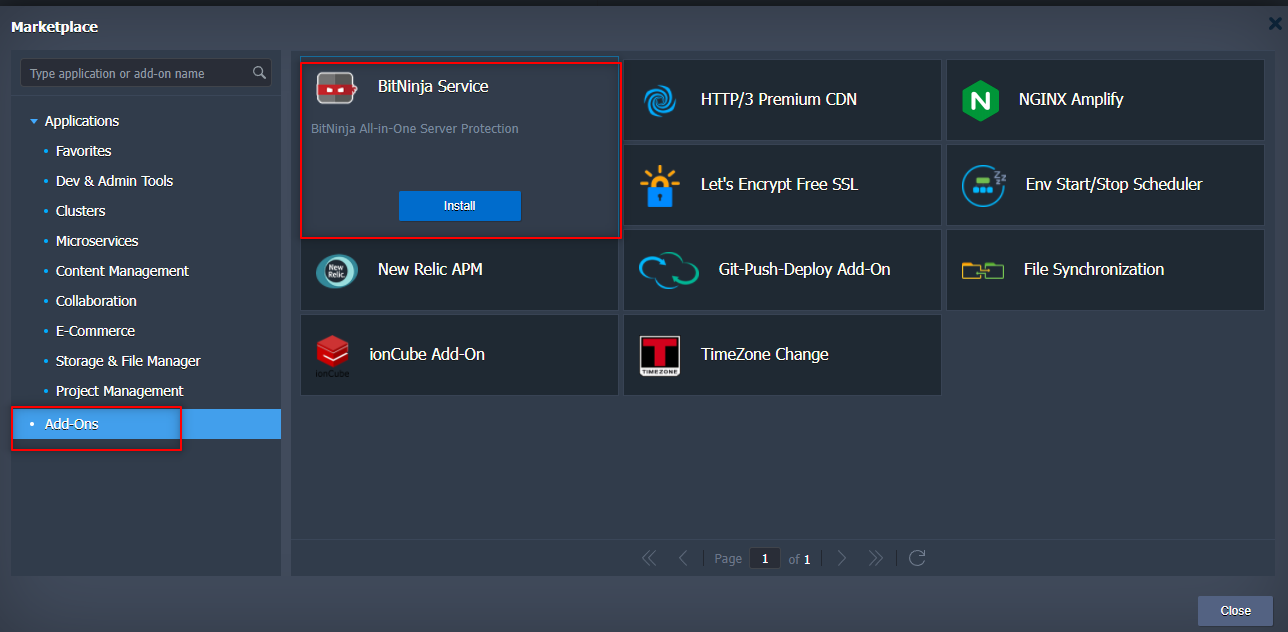 Select the environment and the layer you wish to install BitNinja on. You can select one layer per installation.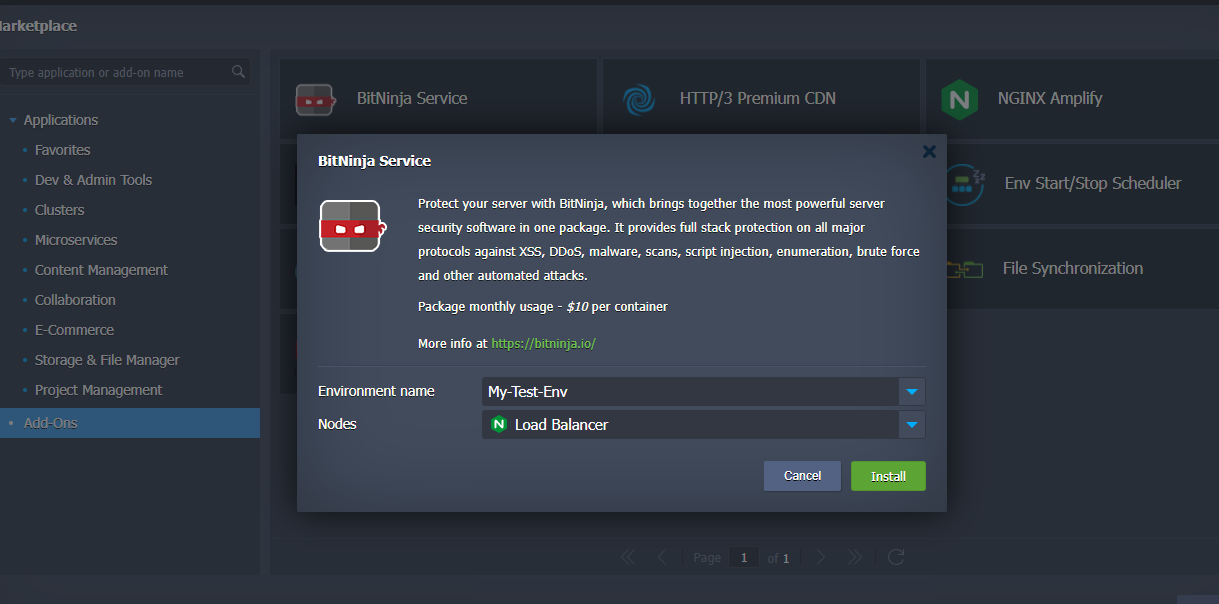 Click on the Install button.

You will receive an email from Jelastic with a link. Click on the link to register your BitNinja account. You can manage all node's BitNinja settings from the Dashboard.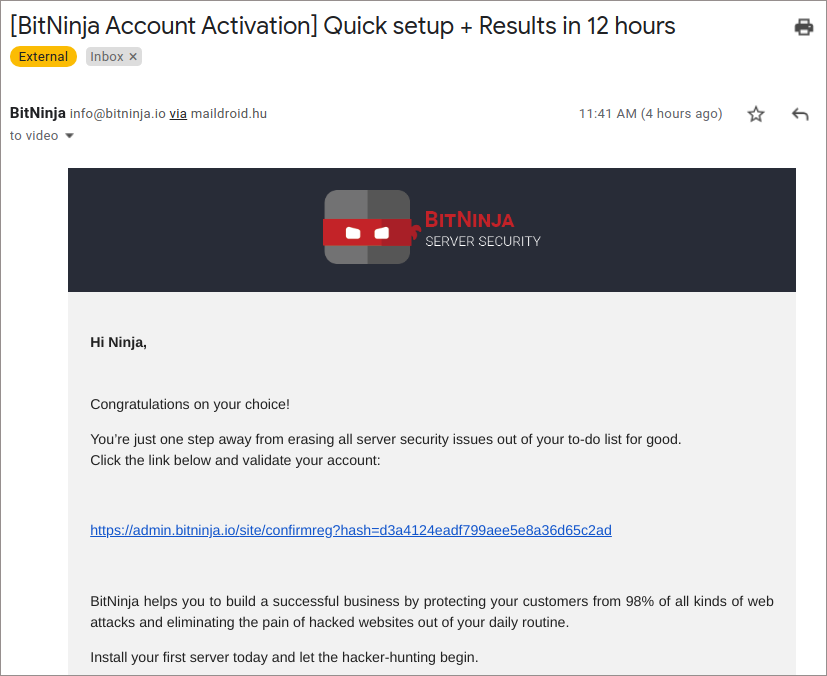 tip
You can also install BitNinja from the Add-Ons menu of the given node.

Add-On Options​
After the installation is complete you can use the Add-Ons panel in the Jelastic dashboard to:
Jump to the BitNinja Dashboard
Restart the agent on the node
Or to uninstall the agent from the node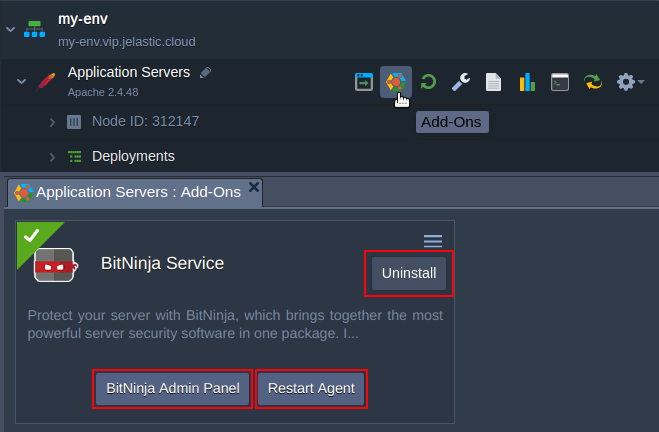 Configuration​
BitNinja is fully configured for the node type. You can block list, allow list, and challenge list and modify BitNinja settings from your BitNinja Dashboard.
tip
To use the BitNinjaCLI or to modify the config files on the node, you need root privileges. Root access is not usually granted by default. However, there are cases when root access is granted.
Default active modules and configurations by node type​
| Node type | IP reputation | Port Honeypot | Web Honeypot | DOS Detection | Sense Log | Malware Detection | Defense Robot | Trusted Proxy | WAF 2.0 |
| --- | --- | --- | --- | --- | --- | --- | --- | --- | --- |
| Apache LoadBalancer | ✔️ | ✔️ | ✔️ | ✔️ | ✔️ | ✔️ | ✔️ | ❌ | ✔️ |
| HAProxy | ✔️ | ✔️ | ✔️ | ✔️ | ✔️ | ✔️ | ✔️ | ❌ | ✔️ |
| LiteSpeed ADC | ✔️ | ✔️ | ✔️ | ✔️ | ✔️ | ✔️ | ✔️ | ❌ | ✔️ |
| LiteSpeed PHP | ✔️ | ✔️ | ✔️ | ✔️ | ✔️ | ✔️ | ✔️ | ❌ | ❌ |
| llsmp | ✔️ | ✔️ | ✔️ | ✔️ | ✔️ | ✔️ | ✔️ | ❌ | ✔️ |
| Nginx | ✔️ | ✔️ | ✔️ | ✔️ | ✔️ | ✔️ | ✔️ | ❌ | ✔️ |
| Storage | ✔️ | ✔️ | ✔️ | ✔️ | ✔️ | ✔️ | ✔️ | ❌ | ❌ |
| Varnish | ✔️ | ✔️ | ✔️ | ✔️ | ✔️ | ✔️ | ✔️ | ❌ | ✔️ |